Looking for the best honey in the world?
Sidr or Manuka Honey?
You might have experienced the health benefits of the Manuka honey, and today we invite you to give our Yemeni Sidr honey a try and judge for yourself!
Exploring the differences
Buying Sidr Honey or Manuka Honey?!
Sidr honey and Manuka honey are two of the most prized honeys in the world. Both are known for their medicinal properties, and both have a unique flavor and texture. However, there are some key differences between the two honeys that may affect your decision of which one to buy.
INDULGENCE AND WELL-BEING IN ONE JAR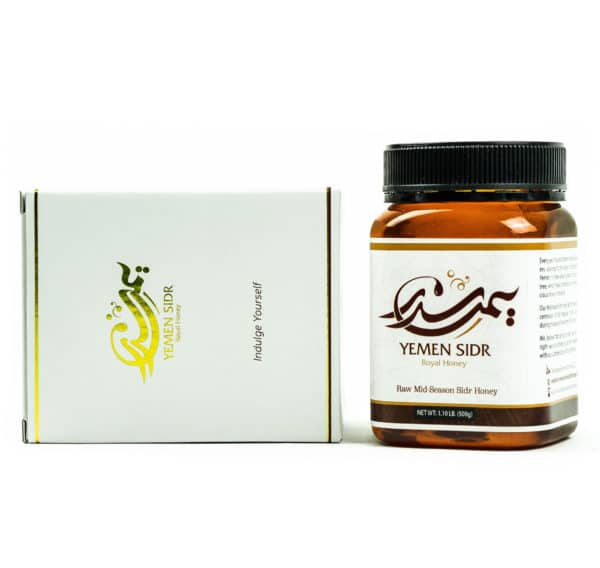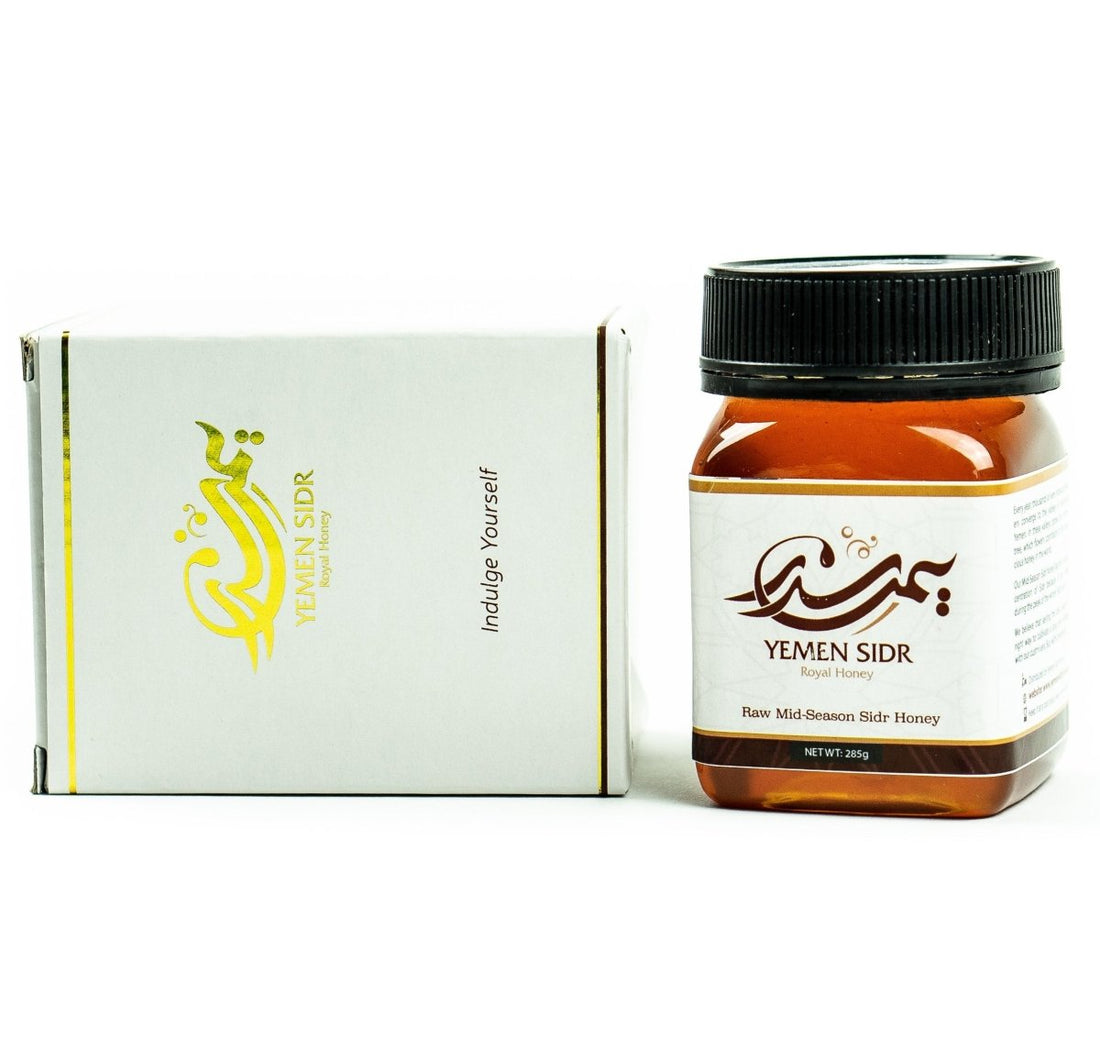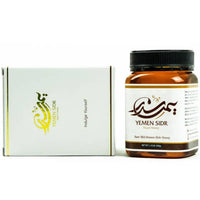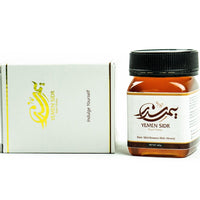 مزروعة بالطبيعة وتجمعها أيدي مربي النحل المثابرين. نقدم لكم عسل السدر اليمني المحصود في ذروة موسمه! يعود أصل هذا العسل الثمين إلى الوديان الخصبة بوادي دوعان ، حضرموت في اليمن حيث تنمو أشجار السدر. تعانق الأشواك العديدة الموجودة على أغصانها باقة من الزهور الصفراء التي تساهم بشكل كبير في تفرد عسل السدر ، وتحويله إلى "ذهب" سائل غريب معروف بخصائصه العلاجية القوية.
This content type will accept rich text to help with adding styles and links to additional pages or content. Use this to add supplementary information to help your buyers.
You can use product metafields to assign content to this tab that is unique to an individual product. Use tabs to highlight unique features, sizing information, or other sales information.
Origin and Production
Sidr honey is produced from the nectar of the Sidr tree, which is native to the Middle East. The Sidr tree is considered sacred, and its honey has been used for centuries for its medicinal properties. Manuka honey is produced from the nectar of the Manuka tree, which is native to New Zealand. Manuka honey has only been commercially produced for a few decades, but it has quickly gained popularity due to its high levels of antibacterial activity.
Taste and Texture
Sidr honey has a rich, buttery flavor and a thick, smooth texture. It is often described as having a caramel or chocolatey taste. Manuka honey has a more tart, tangy flavor and a thinner, more runny texture. It is often described as having a slightly medicinal taste.
Antibacterial Properties of Both Sidr and Manuka
Antibiotics are the medicine for bacterial infections that hit both humans and animals; the problem here is that bacteria always develop their defending methods towards chemical medicine until we have antibiotic-resistance bacteria. That kind of bacteria makes it harder and more costly to treat infections such as; pneumonia, tuberculosis, gonorrhoea, and salmonellosis. 
Researchers from the University of Ottawa tested Sidr and Manuka honey's antibacterial activities. Why honey? Because it is believed that honey is an antibiotic with no side effects in the long run.
They compared the impact of the commonly used chemical antibacterial medicines and both Yemeni Sidr honey and Manuka honey on single bacteria and biofilms. The two types of honey showed 100% effectiveness in killing MSSA, MRSA, and PA single bacteria. In contrast, the effectiveness had changed in the case of bacteria grown under a slimy layer that shows more resistance to antibiotics called biofilms.
Dr Susan Richardson, head of microbiology at the Hospital for Sick Children in Toronto, said that you don't need to inject the honey into the blood veins or swallow it; you just apply it onto the surface of the bacteria, and it will work!
Medicinal Properties
Both Sidr honey and Manuka honey have a wide range of medicinal properties. They are both antibacterial, antifungal, and antiviral. They have also been shown to be effective in treating a variety of health conditions, including wound healing, stomach ulcers, and respiratory infections.
As mentioned, the Sidr tree and Leptospermum Scoparium plant are used to help in treating several illnesses, and the honey produced from them have equally unique medicinal properties. Both Sidr honey and Manuka honey, for example, are known as effective antioxidants, antibacterials, and anti-inflammations.
Sidr Honey
A study published in 2013 from King Saud University investigates the possible protective effect of Sidr honey on carbon tetrachloride-induced oxidative stress and liver and kidney damage in rats. The researchers gave the Sidr honey to the rats orally and started observing the results on the animals' liver and kidneys. 
The study concluded that Sidr honey showed effective protection to the liver and kidneys from damage. Moreover, it showed strong antioxidant activity in DPPH and ß-carotene-linoleic acid assays. Honey also contained phenolic compounds that may be a potential treatment for cardiovascular diseases.
In another study published in the World Academy of Science, Engineering and Technology magazine, 2011, researchers studied the anti-inflammatory properties of Yemeni Sidr honey on rats. The application of Yemeni Sidr honey on rats showed great potential in inhibiting both phases of carrageenan-induced paw oedema compared with the chemical medicines. Based on the results, it can be suggested that Yemeni Sidr honey's ability to inhibit carrageenan-induced paw oedema may be due to its suppression of the release of mediators responsible for inflammation, including histamine, serotonin, bradykinin and prostaglandin.
Manuka Honey
Discovering the Antioxidant and Anti-inflammatory properties of Manuka honey is the aim of a study published in 2017. The researchers studied the impact of the three different concentrations of Manuka honey on groups of rats to indicate whether there is a positive impact or not. They came to the conclusion that manuka honey is effective in treating chronic ulcers and preserving mucosal glycoproteins. That's because it has antioxidant and anti-inflammatory properties. The effects are due to a significant reduction of gastric mucosal MDA, TNF-α , IL-1β, IL-6 and caused an elevation in IL-10 levels.
In simple words, Sidr honey and Manuka honey showed potential effectiveness in healing wounds and curing several illnesses such as relieving sore throat, cough, gut problems, and flu. Also, both of them have some evidence in boosting immunity, energy levels, and memory retention. While they help with hangovers, they can also aid in resting better and reduce bed-wetting for kids. Needless to say that most, more than %95, of the medical uses of Sidr and Manuka honey are being done under certain procedures and special circumstances.
Social Impact
The production of Sidr honey has a positive social impact in Yemen. The Sidr tree is an important source of income for many Yemeni farmers, and the honey is a valuable export product. The production of Manuka honey, on the other hand, has a more mixed impact. While it has also created jobs in New Zealand, it has also led to the over-harvesting of Manuka trees in some areas.
Natural Production
Sidr honey is produced using traditional methods, without the use of chemicals or pesticides. This makes it a more natural and sustainable product. Manuka honey is also produced using traditional methods, but some producers use chemicals to increase the level of methylglyoxal (MGO), a compound that is associated with the antibacterial activity of Manuka honey.
Historical Legacy
Sidr honey has a long and rich history. It has been used for centuries by traditional healers in the Middle East. Manuka honey, on the other hand, is a relatively new honey. It has only been commercially produced for a few decades.
Conclusion
Both Sidr honey and Manuka honey are excellent choices for those looking for a healthy and delicious honey. The best choice for you will depend on your individual needs and preferences. If you are looking for a honey with a rich flavor and a smooth texture, then Sidr honey is a good option. If you are looking for a honey with strong antibacterial properties, then both the Manuka or Sidr honey are good options for you. Ultimately, the decision of which honey to buy is a personal one.